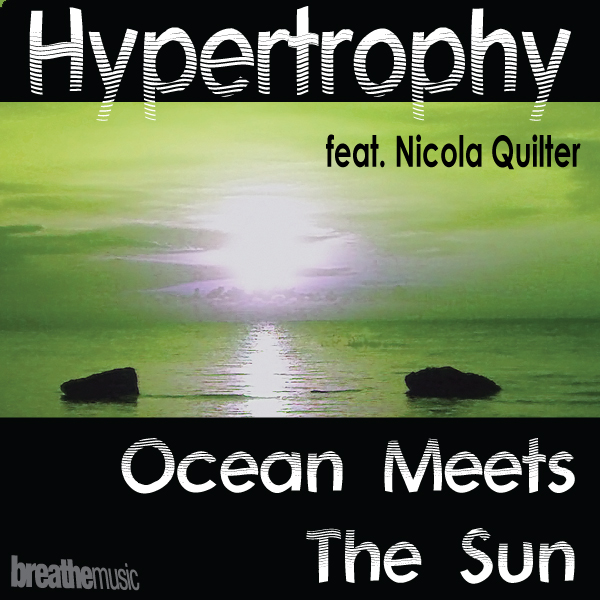 Hypertrophy feat. Nicola Quilter - Ocean Meets The Sun
Catalogue No.: BREV1218

Release Date: 2012-02-01

Tracklist:
Original Mix
Funabashi Remix
André Visior & Nicol Coldblue Remix
Dark Moon & Invision Remix
JayB Remix
Gabriele Menten Remix

composed by Michael Teuber (50%) & Sascha Graune (50%), Lyrics by Michael Teuber (100%) Additional production and remix by Funabashi, André Visior & Coldblue, Dark Moon & Invision, JayB & Gabriele Menten
Lyrics by Nicola Quilter
published by Edition freshmoove/Roba Music (Teuber), Warner Chappell (Graune)

Breathemusic is launching its first release of the new year... watch out for "O.M.T.S." by Hypertrophy!
For some, "Hypertrophy" might ring a bell because back at the end of the glorious 1990s, the DJ duo had unbelieveable success with "Just Come Back To Me" and "Pullover", reaching position 51 and 53 of the official German music charts!

Times have changed, and with "Ocean Meets The Sun", Stefan Heinemann and Thorsten Kaiser a.k.a. Hypertrophy demostrate that their spectrum covers much more than their classic hits, featuring a highly emotional vocal together with a remarkable melody.
O.M.T.S. comes with a vast remix package:

Andre Visior & ColdBlue join forces to an extremely promising collaboration. Andre´s "Moonraker" on Breathemusic gathered top international support and ColdBlue can for sure be called one of the brightest shooting stars, inventing one of the most favourite tracks in 2011 with the legendary "Fallen Angel". Teamed up, these two guys did an outstanding job with this powerful remix, focussing on the melodies and a tight bassline.
Another premiere is the remix by Dark Moon & Invision. Chris & Tino from Dark Moon and Björn a.k.a. Invision added even more power in their mix, featuring only the crucial parts of the vocal, a distinctive lead that sticks in mind and great atmospheric elements.

Funabashi is also a very well known act, who did a very deep and progressive remix of "O.M.T.S." around the exceptional and goosebump causing vocal in the center of attraction.
Jay B ("Desire") joins the remix party and brings am extremely interesting and unique interpretation of the track! Last but not least, Gabriele Menten ("Back") added a very playful and trancy version with his remix, rounding off the release.