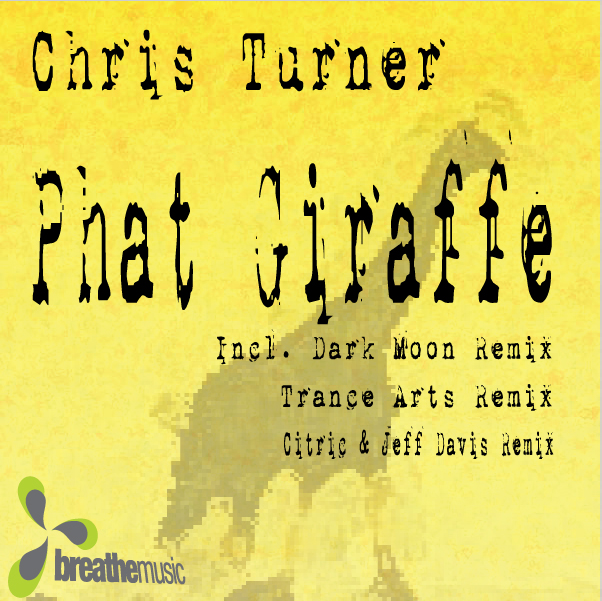 Chris Turner - Phatt Giraffe
Catalogue No.: BREV1112

Release Date: 2011-03-01

Tracklist:
Original Mix
Dark Moon Remix
Trance Arts Remix
Citric & Jeff Davis Happy Days Remix
Rock/Pop Version


composed by Chris Turner. Additional production and remix by Dark Moon, Trance Arts and Citric & Jeff Davis
published by Darkmoon - Music

After André Visior & Kay Stone´s "Sunrise", that appeared in every big playlist worldwide, Breathemusic is opening the new year with another massive release: Chris Tuner - "Phat Giraffe"!
Chris Tuner, who is also manager of the UK label "Unearthed Records", demonstrates his skills to produce high quality trance music with an distinctive melody that stays in mind immediately.
Besides the original mix, "Phat Giraffe" comes with a remix package:
German producer Torsten Nieland, better known as Trance Arts, has become a great demanded musician in the last years. Although he is producing a large number of remixes and own releases, all his tracks sound sophisticated and unique. His "Trance Arts" remix of the Phat Giraffe is no exception to that, the pushing bassline and the even more melodic harmonies create a very beautiful and interesting atmosphere.
The Darkmoon remix is an absolute peak time trancer. Taking the melody to an extremely eurphoric climax together with a powerful bassline, it will definetively fill every dance floor!
The remix package is completed by the Citric & Jeff Davis "Happy Days" remix, a tribute to the legendary "Happy Days" classic events in the LMC (Live Music Circus) in Köthen.