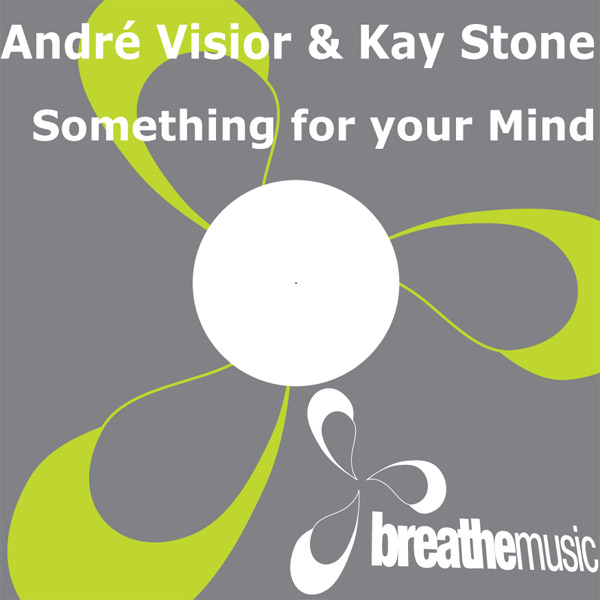 André Visior & Kay Stone - Something for your Mind
Catalogue No.: BREV0807

Release Date: 2008-02-01

Tracklist:
Original
Giuseppe Ottaviani Remix
Dark Moon Remix

composed by Karsten Loos & Andre Balser
published by Darkmoon - Music

Be prepared for one of the most interesting collaborations in the german dance scene: Experienced producer Karsten Loos, who is knows for his projects Dee Mark and Kasuma and who made a massive debut at Breathe Music with his first Kay Stone-single "Alone" in 2005, teams up with André Visior, a popular artist from the Frankfurt scene, who has been entertaining the crowd with his DJ skills at events like Loveparade, Nature One and many clubs in Germany and around the globe. André's latest productions "Skyline" and "Beautiful People" (together with Dark Moon) got great support from all the big DJs like Armin van Buuren, Above & Beyond and Ferry Corsten and they also got fantastic feedback from the party people.
The Original Mix sounds quite like a mixture of Kay Stone's and André Visior style, combining best things of both of them. It slowly builds up, step by step the different elements come into the track, until the main melody is introduced in a very clear way. The breakup can be described as epic and even "anthemic". A must-have for all uplifting trance fans!
Tino Hufeld and Christian Stein, the guys behind Dark Moon, have produced a "darker", some kind of mystic remix. The main melody comes in very late and releases the listener from deep, driving soundscapes – perfect to catch the first enthusiastic reactions on the dancefloor in the beginning of a night.
Giuseppe Ottaviani's remix completes the package, and the Italian mastermind, former part of the legendary duo Nu-NRG and nowerdays very successful with his solo project, has put a lot of energy into this mix. It is a very euphoric, banging mix with a strong focus on the melodic parts. This one will work on the big dancefloors as well as in the smaller clubs, a piece of music everyone has to start to dance to.