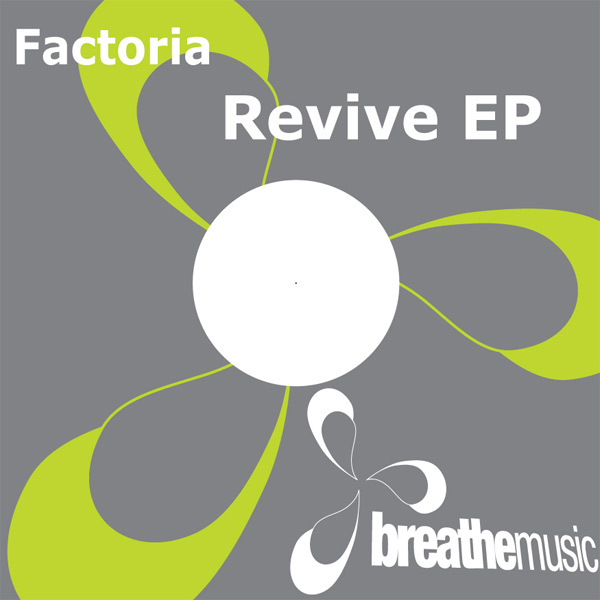 Factoria - Revive EP
Catalogue No.: BREV0705

Release Date: 2007-06-01

Tracklist:
Original Mix
DarkMoon Remix
Static Blue Remix
More Sleepless Nights
Revive Soulful Soundscape Mix

composed by Dave Dowsett
published by Darkmoon - Music

UK based producer and DJ Dave Dowsett a.k.a. Factoria is one of the hottest names at the moment in the international trance scene. His productions have appeared in the playlists of global players including Paul van Dyk, Armin van Buuren, Tiesto, Ferry Corsten and Above & Beyond. As a DJ Dave has rocked the crowd at the "Asta" in The Hague (Netherlands) and at the legendary "Passion" in the UK, for example. Beside many high class productions, the young Englishman has remixed acts like Matt Darey and Robert Nickson. Now he delivers a very special EP with two tracks that will definitely be top tunes of this summer!
The Original Mix is euphoric trance in the true meaning of the word. Starting with pumping beats, the clubbers will be released with a wonderful break and a melody that goes right into the brain even when you listen to it for the first time. This is a peak time burner that shows how beautiful trance music can be.
Static Blue, a very talented young producer from France (hit: Icone Meets Static Blue – "The Fall"), has made a remix, that can be described as pure melodic trance. It is a little bit softer and more dreamy than the Original Mix, but still works great in a club. This one fits best in a very uplifting set with its nice flow and warm bassline.
A more techy and progressive interpretation is the remix produced by Dark Moon, the masterminds of Breathe Music. These two german guys know how to put some energy on the dancefloor. Their remix starts with hard beats until the break, where the main melody is introduced, followed by hard beats again.
The second track of this fabulous EP is called "More Sleepless Nights". Another uplifting masterpiece full of energy with a hypnotic melody and a massive buildup. This one will also be found in many playlists this summer.